BTC Bank: A Legacy of Stability, Trust, and Community Commitment

BTC Bank has emerged as a beacon of reliability and unwavering dedication in a world where trust and stability are essential. With a rich history spanning generations, BTC Bank has firmly established itself as a trusted financial institution, supporting its valued customers and communities.
The story of BTC Bank is one of resilience and unwavering commitment to serving its customers' financial needs. Since its inception, the bank has demonstrated steadfast dedication to delivering stable and trustworthy financial services, earning the trust and loyalty of individuals, families, and businesses.
At BTC Bank, community lies at the heart of everything we do. We understand the importance of supporting local initiatives and giving back to the communities we serve. From sponsoring community events to actively participating in charitable endeavors, we strive to be a trusted and dependable partner in the prosperity of our communities.
In this blog post, we invite you to explore the captivating journey of BTC Bank, uncover the factors that have made us a symbol of trust, and discover the lasting impact we have had on the lives of our customers.

BTC Bank is more than just a financial institution; it is a community bank deeply rooted in the traditional values of personal customer service and sound banking practices. Since its establishment, BTC Bank has remained committed to serving its friends and neighbors, upholding the highest standards of excellence in all its professional banking services.
With an unwavering focus on agriculture and a service-oriented mindset, BTC Bank is driven by a genuine desire to strengthen the communities it serves. The bank's commitment to safeguarding customers' assets is a testament to its dedication to creating a solid financial base through sound loans, investments, and quality service.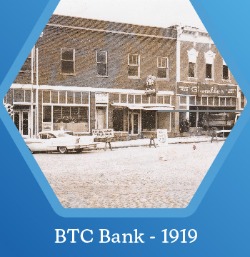 The journey of BTC Bank dates back to its establishment as the Bethany Trust Company on September 19th, 1919, in Bethany, Missouri. Over the years, the bank has grown and adapted to meet the evolving needs of its customers and communities. From opening its doors on the southwest side of Bethany Square in 1920 to celebrating its 100th year in business in 2019, BTC Bank has continually demonstrated its resilience and commitment to its mission.
Throughout its history, BTC Bank has expanded its reach and services, acquired other banks, and established new branches. The bank's growth milestones include:
Acquiring the Bank of Gallatin/First State Bank in New Hampton in 1998.
Celebrating its 80th anniversary in 1999 and rebranding as BTC Bank.
Opening new facilities in Albany, Pattonsburg, and Chillicothe.
Venturing across state lines to open a full-service branch in Lamoni, Iowa, in 2011.
Opened our seventh full-service bank, located in Carrollton, in 2014.
Upgraded our Boonville loan office to a full-service BTC Bank Branch in 2016.
BTC Bank opened our ninth full-service branch, located in the Beaman, MO, area, in 2017.
In 2018, we opened our tenth full-service branch in Trenton, MO.
In 2019, BTC Bank celebrated its 100th year in business and acquired The Bank of Fairport with locations in Maysville and Osborn, Missouri.  
Continuing the anniversary celebration, BTC opens its newest branch in Buffalo, MO, marking its 13th location and expanding its footprint further south.
In 2021, BTC Bank acquired 1st Cameron State Bank and Home Exchange Bank. Adding 1st Cameron State Bank's two locations in Cameron, Missouri, along with three Home Exchange Bank locations in Jamesport, Oregon, and Gilman City, Missouri, to the BTC Branch family.
In 2022, BTC Bank purchased Merchant and Farmers Bank with locations in Salisbury, Fayette, Columbia, and Hardin, bringing the total number of BTC Bank branches to 22.

As we continue to expand our presence, BTC Bank remains dedicated to making a positive impact in the communities we serve. With our footprint extending to over 22 communities in Missouri and Iowa, we are committed to utilizing our growing resources to make a difference. From supporting local initiatives to fostering economic growth, we strive to be a trusted partner in the development and prosperity of each community.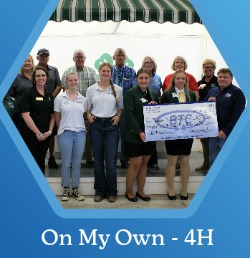 On My Own - 4H
One of the many initiatives close to our hearts is our support for the Missouri 4-H financial education program, On My Own. We recognize the importance of financial education for young individuals. Through our partnership with Missouri 4-H, we actively equip youth with the necessary knowledge and skills to make informed financial decisions. 
Future Farmers of America
We proudly support the Future Farmers of America (FFA) program. As a believer in the future of agriculture and the youth of our area, BTC Bank offers a $100.00 award annually to an FFA member at each FFA Chapter in our service area. The awarded money will advance the individual's supervised agriculture experience program. We believe that investing in the next generation of agricultural leaders is vital for the future of our communities.
BTC Area Youth Benefit Corp

BTC Bank employees have actively participated in fundraising campaigns organized by BTC Area Youth Benefit Corp (AYBC), a nonprofit organization founded by BTC Bank. Through their generous contributions, our employees have donated over $50,000 to BTC AYBC during annual giving campaigns in the last two years. These funds directly support local children and enhance our ability to make a positive impact beyond what the bank alone can achieve.
BTC Bank is passionate about community, and these initiatives reflect our unwavering dedication to creating opportunities, providing education, and fostering community spirit. 

In a rapidly changing financial landscape, BTC Bank is steadfast in its commitment to embracing the future with a focus on growth and innovation. We understand the importance of adapting to changing customer needs and technological advancements. Our vision for the future encompasses maintaining the unwavering trust and stability we are known for and driving innovation to deliver cutting-edge financial solutions. At BTC Bank, the intersection of tradition and innovation is the key to unlocking a brighter future for our customers and communities. 

As a community bank, we understand the importance of staying true to our roots while embracing the advancements that shape the banking industry. We are committed to providing you with the best of both worlds - the trusted traditions of a local bank and the convenience of innovative banking solutions.
Remember, your financial success is our top priority. Join us at BTC Bank as we combine the power of tradition and innovation to shape a brighter future for you and our communities.