BTC Bank Supports Missouri 4-H Financial Education Program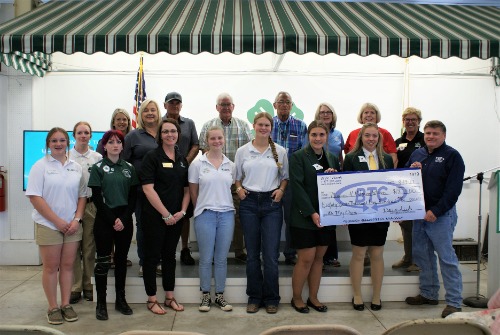 COLUMBIA, Mo. – Young people across Missouri will experience interactive, hands-on financial education thanks to a five-year pledge of support from BTC Bank to the Missouri 4-H Foundation.
The pledge will support the statewide launch of On My Own, a household finance simulator for youths ages 13-18.
"BTC Bank is proud to partner with the Missouri 4-H Foundation to help empower students with the essential skills needed to make sound financial decisions. It's a testament to BTC Bank's investment in our communities," said Doug Fish, BTC Bank President and CEO. "It is crucial that our younger generation understand important aspects of personal finance and this simulation will provide them with the knowledge needed to successfully navigate the increasingly complex financial world we live in."
Designed by University of Tennessee Extension, On My Own will be delivered by Missouri 4-H faculty, staff, and classroom teachers.
During the simulation, students become the major income provider for their households, which may include a spouse and children. Using a hypothetical occupation and income, students work through a month of expenses that include housing, utilities, transportation, insurance, food, child care, clothing, entertainment and expenses from unexpected events.
"Financial education is an important part of Missouri 4-H's career-readiness programs," said University of Missouri Extension 4-H program leader Lupita Fabregas. "Missouri 4-H is proud to support and encourage our young people to finish high school, find their spark and continue their postsecondary education. This program will give them a solid foundation in financial education, which will help them succeed and thrive as adults."
"We are incredibly grateful to BTC Bank for their support of this innovative program," said Missouri 4-H Foundation director Rachel Augustine. "This gift will help hundreds of young people in Missouri develop essential life skills that will empower them to become financially responsible adults."
On My Own will be available to 4-H members in the new program year, which starts Oct. 1. For information about On My Own and other online and in-person 4-H programming, visit 4-H Missouri.
---
About BTC Bank
BTC Bank is a community bank founded in 1919 that's based in Bethany, Missouri, with additional branch locations in Gallatin, Albany, Pattonsburg, Chillicothe, Carrollton, Boonville, Beaman, Trenton, Maysville, Osborn, Buffalo, Cameron, Gilman City, Jamesport, and Oregon, Mo., and Lamoni, Iowa. BTC Bank is agriculturally minded, service oriented and driven to strengthen the communities it serves. BTC safeguards the assets of its customers by creating a strong financial base through sound loans, investments and quality service. Member FDIC.
About Missouri 4-H
4-H, the nation's largest youth development organization, grows confident young people who are empowered for life today and prepared for careers tomorrow. 4-H programs empower nearly 6 million young people across the U.S. through experiences that develop critical life skills.
University of Missouri Extension 4-H connects the technical knowledge of Mizzou to youths across Missouri learning about the sciences, leadership, citizenship and skills for life. For more than 70 years, the Missouri 4-H Foundation has been supporting and managing funds for the MU Extension 4-H Youth Development Program, providing higher education scholarships and recognizing 4-H volunteers.
Photo:
BTC Bank has made a five-year pledge of support to the Missouri 4-H Foundation for a youth financial education program called On My Own. BTC Bank President and CEO Doug Fish, front row, far right, presented a check to Missouri 4-H representatives Aug. 18 at the Missouri State Fair in Sedalia. Among those pictured are Missouri 4-H director Lupita Fabregas, back row, far right, and Missouri First Lady Teresa Parson, back row, second from right.