Trenton, MO Location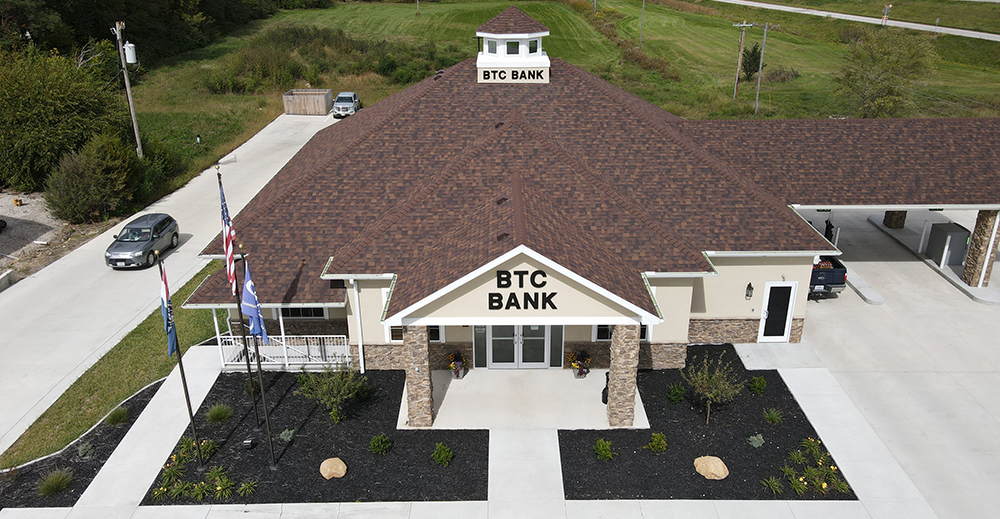 Address
1000 Oklahoma Avenue
Trenton, MO 64683
Phones
Lobby Hours
Mon-Fri: 8:30am-4:00pm
Sat: 8:00am-Noon
Drive-Thru Hours
Mon-Fri: 8:00am-5:00pm
Sat: 8:00am-Noon
Trenton Lenders
Tom Witten, Chief Lending Officer & SVP
Laura Kimble, Vice President
Chris Hoffman, Business Development Officer
Caleb Boyd, Junior Loan Officer
Welcome to our BTC branch in "The Five Point City" of Trenton, MO. Opened in 2019, we are proud to bring our long history of community banking to meet the financial needs of the people and businesses of Trenton. If you're comparing banks in Trenton, MO, choose the one that prioritizes your community by reinvesting its money in local lending. BTC is an agriculturally and community minded bank that strives to bring you progressive banking products and services with the kind of hospitality you can only find in a small town.
Finding BTC Bank in Trenton
BTC Trenton's new branch building is centrally located near the Rock Barn and Fairgrounds. Step inside to see our framed photographs of Trenton's historic railroad background. When you visit our Trenton location, you can expect positive vibes and welcoming greetings. Parking is available in front of and behind the building, with a wheelchair accessible entrance on both sides. We also offer two lanes of drive-thru banking and a drive-up ATM.
Community Involvement

As a longtime community bank, we are service-oriented and driven to strengthen the communities we serve. The Trenton location hosts Community Appreciation Lunches and our basement community room can be used by the public for free–Rotary Club meets there on Thursdays. We also support local organizations such as the Trenton Chamber of Commerce, Northwest Missouri Dream Factory, NCMC Holiday Hoops, Mid-America Music Festival, and our local schools and sports teams. Go Bulldogs, Blue Jays, Panthers, and Pirates!

 
Contact Us! 
When you're looking for a bank or lender in Trenton, MO, call or visit us today for help with all of your banking needs. We understand that our success depends on customer loyalty, so we work hard every day to provide friendly and professional service to everyone who walks through our doors.