Should You Save Or Pay Down School Debt?
Student Loan Debt
Please note: Links on this page may direct you to leave the BTC Bank website. BTC Bank is not responsible for, nor do we control, endorse, or guarantee the content, products, and/or services of the subsequent pages. The linked site may have a different privacy policy or provide less security than our website. We recommend that you review these policies on the linked site. Thank you.

As a community bank, we care deeply about helping our customers and community meet their financial goals. One dilemma many recent graduates face is whether to pay down student loans or save. If you search for articles on paying off student loans early, you'll find more than a few stories detailing the heroic efforts the writer took to become debt free in a dramatically short period of time. But while less debt seems like a no-brainer, it isn't always the best way to achieve financial security, especially if it comes at the expense of saving for retirement in your 20's. Here's an overview of the student loan debt facts you need to consider as you weigh the pros and cons of paying off student loans or saving.
Interest Rates Matter
When it comes to saving versus paying off debt, the most important consideration is the interest rate(s) on your various loans. For school debt there are two kinds of student loans: government-funded and private. Federal student loans are either subsidized–meaning that the U.S. Department of Education pays the interest incurred while you are still in school–or unsubsidized, meaning that interest accumulates and becomes part of the principal.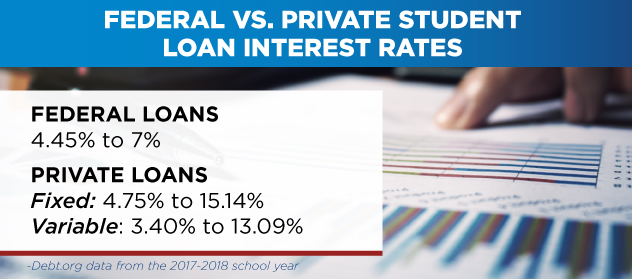 Federal Student Loans
The interest rate on federal student loans is generally low compared to other types of debt such as a credit card or personal loan. Perkins Loans have a fixed five percent interest rate. Other types of federal aid vary in interest from
4.45 to 7 percent
, depending on the type of loan and when it was disbursed (received by you or your school). Congress sets the interest rate on federal school loans, but your rate is fixed when the loan begins. You won't see the interest rate vary from year to year and the only way to change it (if you wanted to lower it, for example) is to go through debt consolidation or refinancing.
Private Education Loans
Private student loans are not funded by the federal government. They come from other sources such as the school itself or a financial institution. Private school loans have a fixed or variable interest rate, which is usually higher than the rate on a federal loan. Your credit score and income, as well as your co-signer's (if you have one), determine how much you can borrow and at what rate.
How Much Is Your Interest Rate?
Figure out what interest rate(s) you're currently paying on your school loans. Then see if it's possible to consolidate or refinance into a lower rate. If your school debt interest rate is less than about seven percent, you will still get more bang for your buck by putting extra cash toward retirement savings instead of extra loan payments.

3 Reasons Not To Postpone Retirement Savings
If you recently finished college or graduate school, you're probably not thinking a whole lot about retirement. After all, your career is just beginning. Student loans are a concrete demand on your money right now, whereas retirement is an abstract idea. Maybe you tell yourself you're going to find a job you love so you won't even want to stop working. However, life is unpredictable. You might lose your job or need to stop working temporarily because of an illness or the responsibility of caring for a child or adult family member.
That's why the recommended emergency fund you hear about in every personal finance article is so important, as is putting aside money for retirement. Think about it in terms of achieving financial independence. Once you have enough saved to live off of an annual percentage of your nest egg, you are free to make decisions based on your true passions and desires, not the necessity of earning a certain amount of money.
Tax Incentives
Savings accounts
that are specifically for retirement, such as 401(k)s and IRAs, usually offer tax breaks. You can either put away untaxed money now (which lowers your overall taxable income), or pay tax on the money you contribute now and enjoy tax-free withdrawals in retirement. The interest on federal student loans is also tax deductible up to a certain amount, so by contributing pre-tax income to retirement savings and deducting eligible student loan interest you can lower your overall taxable income.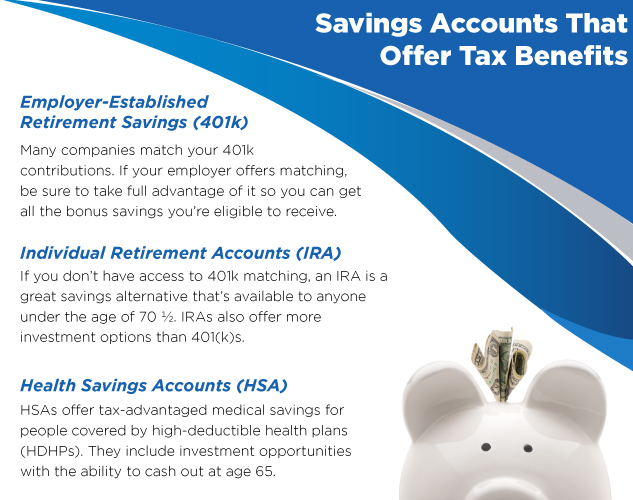 Employer Matching
If your company offers a retirement plan, they may also match a certain dollar amount or percentage of your annual contribution. Failing to take advantage of an employer match is like walking away from free money. That's why you should always be saving at least enough to earn the match, even if that means you're only making the minimum payment on your school debt.
The Effect of Compounding
Even without an employer match, the money you save now will grow over time, so that $10,000 is ultimately worth about $200,000 by the time you reach retirement age. That's the effect of compounding, which refers to the interest or returns you earn on investments, which then go on to generate their own returns. Yes, the stock market fluctuates but
t
he average annual rate of return (after inflation) is seven percent
. That's why a student loan with a lower interest rate isn't worth paying off early instead of saving.
Emergency Funds And Other Savings Goals
We've established that any debt with an interest rate lower than seven percent should not be prioritized (beyond making the minimum payments) over saving for retirement in your 20's. But what about other things you need to save for in life?
Most personal finance experts recommend saving an emergency fund of about 6-12 months of living expenses in case you lose your job or need cash for something unexpected like a medical bill.
As you build this personal safety net, continue to make the minimum payment on your loans. If you have an employer match on your retirement account, you should also contribute at least enough to earn the full match.
After you have an emergency fund, prioritize other savings goals as well as any debt you have besides school loans. For example, you might want to buy a house someday, so you'll need to save up a down payment. At the same time, let's say you have a credit card balance of a few thousand dollars. Since home ownership isn't a necessity, you should put your extra money toward paying off high interest debt first. Otherwise the effect of compounding will hurt you–as accrued interest is added to your balance each month–rather than help you, as it does in the stock market.
Start Saving With BTC Bank
Now that you understand the importance of getting an early start on saving for retirement, BTC Bank is here to help. With personal savings accounts and individual retirement accounts (IRAs), we can help you build an emergency fund or work toward financial independence.
Contact us
today or visit one of our
10 locations
to learn more about your options for general savings and retirement.