Financing Options For Beginning Farms In Missouri
Are you thinking about starting your own farm or ranch in Missouri?

Finding the right financing is one of the most important steps you'll take at the beginning of your journey to working your own land. While there are many small loan and grant programs and tax incentives to help new and established farmers and ranchers, Missouri has two large loan programs for beginning farmers that can help cover most of your start-up costs. As another option, the United States Department of Agriculture (USDA) also offers microloans to beginning farmers as well as women farmers and other historically under-served groups. Keep reading to learn more about financing options for beginning farms in Missouri.
Missouri's Beginning Farmer Loan Program
Before you seek beginning farmer loans from the federal government, examine your options at the local level. Missouri is a great place to be a new farmer because agriculture is such an important part of our state's economy. According to the Missouri Department of Agriculture, there are "nearly 100,000 farms located on more than 28 million acres" and the industry provides jobs to about 250,000 residents. So it's not surprising that there's so much support for agricultural development, most notably through Missouri's Beginning Farmer Loan Program.
How It Works
Local lenders in Missouri qualify for federally tax-exempt interest on loans to new farmers. Therefore, banks are incentivized to lend to beginning farmers, and can share their tax savings by attaching lower interest rates to beginning farmer loans.
How Much Can I Borrow?

Eligible beginning farmers can apply for financing of up to $524,000 to purchase anything and everything needed to start a farm in Missouri. This is a convenient way to buy farm land and buildings, stock your farm with essential equipment, and purchase breeding livestock if that's part of your business plan. Instead of navigating different loans for different purposes, you can package all of your funding needs in one loan and monthly payment.
Am I Eligible?
To qualify for a beginning farmer loan, you must be 18 years of age or older, a legal resident of Missouri, and prove that your employees are legally authorized to work. Also, your farm has to be located in Missouri.
The program defines a beginning farmer as "one who has not owned, either directly or indirectly, more than 30 percent of the median size of a farm in the county." However, borrowers are required to possess "adequate working capital" and previous farming experience. So while you must be a small farmer or completely new to owning your own farm, you should have some personal assets and a work history in agriculture before applying for this loan. You must also make most of your income from farming or ranching, so hobbyists need not apply either.
How Do I Apply For a Beginning Farmer Loan?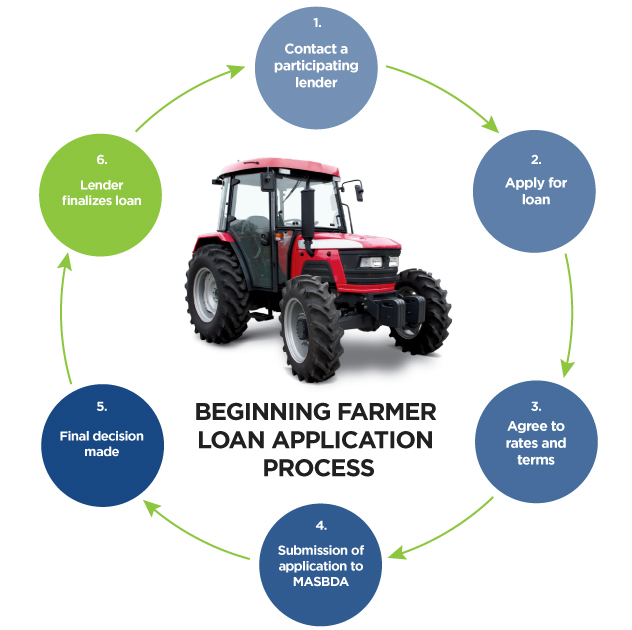 The first step is to contact a participating lender such as BTC Bank. Once you apply for the loan, your lender will make an initial lending decision and set their own rates and terms. If approved, your lender will submit your application to the Agricultural and Small Business Development Authority. At an authority board meeting, a final decision is made. If the authority greenlights your application, they will work with your lender to finalize your loan.
Missouri's Linked Deposit Program
This is another beginning farmer funding source at the state level. Although it's targeted at more than one industry, agriculture businesses are included in the eligibility guidelines. Of the total $720 million in funding, $330 million is allocated for the Agriculture Program. The purpose of the Linked Deposit Program is to "provide low-interest loans to help create and retain jobs, expand the economy and strengthen communities statewide." Under the umbrella of the Agriculture Program there are five individual financing options including a Beginning Farmer Program.
How It Works
As with Missouri's Beginning Farmer Loan Program, the Linked Deposit Program helps new farmers as well as those who are currently farming part-time and want to expand to a full-time operation. Loans can be used for all farming start-up needs including agricultural land and farm buildings, new or used equipment, livestock, and working capital.
How Much Can I Borrow?
There is no limit on Beginning Farmer deposits. Eligible loans are "renewable for up to five years if funds are available."
Am I Eligible?
Many of the requirements are the same as stated in the Beginning Farmer Loan Program. The only difference here is "in previous five years, the applicant has not owned acreage in excess of 50 percent of the average size farm in the county they are farming in or own farmland with an appraised value over $450,000." So the requirement on farmland ownership is a little more flexible than with the first loan program.
How Do I Apply To The Linked Deposit Program?
Fill out an application with a participating lender such as BTC Bank.
The Federal Government's Beginning Farmer Financing Options
The USDA offers a variety of farm loans for beginning farmers and ranchers as well as minority and women farmers. The Farm Loan Program is specifically for family-sized operations and can be used to "start, improve, expand, transition, market and strengthen" your family farm or ranch. The specific loan program options are:
Farm Operating Loan: Can be used to finance the reorganization of a farm or ranch to increase profitability, purchase livestock or equipment, refinance farm-related debt, and cover most farm operating expenses.
Farm Ownership Loan: Can be used to buy a farm or ranch, make a down payment or pay closing costs, enlarge your existing property, build or renovate new buildings, purchase easements, and soil and water conservation and protection.
Microloans are used for the same purposes as operating and ownership loans, but are specifically for small, new, niche, and non-traditional agriculture operations.
What Is A Beginning Farmer?
The USDA definition is one who "has not operated a farm or ranch for more than 10 years, does not own a farm or ranch greater than 30 percent of the average farm size in the county, and substantially participates in the operation."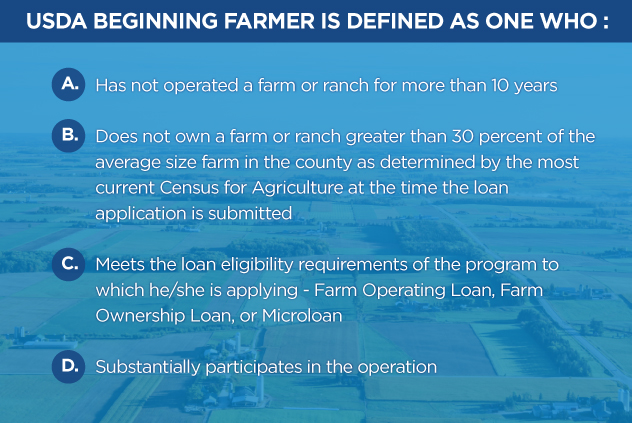 Historically Underserved Farmers and Ranchers
A portion of all loan types are targeted at the following groups: Women, African Americans, Alaskan Natives, American Indians, Hispanics, Asians, and Native Hawaiians and Pacific Islanders.
How Do I Apply?
USDA Farm Loans are either guaranteed through a local lender or offered directly through the Farm Service Agency (FSA). Contact the Missouri State FSA Office for more information.
Summary
Farming is difficult work and no matter how long you do it, your annual success is always uncertain. However, it's a very rewarding and independent way to make a living, and there are plenty of opportunities to get financial help along the way. To learn about more resources for beginning farmer tax credits, grants, and beginning rancher financing options in Missouri, check out The University of Missouri's list of beginning farmer loans and grants. To apply for a state or federal guaranteed or tax-exempt loan, contact BTC Bank's agricultural lending team to learn more about beginning farmer and rancher financing options.