BTC Bank Welcomes Jon Fish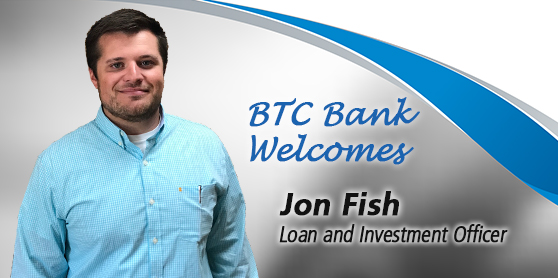 We are proud to welcome Jon Fish to the BTC Bank Family. Jon joins BTC Bank as a Loan and Investment Officer and is located at our Boonville, Missouri branch. Jon spent most of his youth living in the Boonville area and is very excited to be back in the area and continue his banking profession in the same community that he grew up in.
Jon earned his BS in Agriculture Business Management at the University of Missouri in Columbia and continued his education by completing the Graduate School for Missouri Lending. In banking for almost three years, Jon's diverse experience in personal, residential, commercial and agricultural lending as well as financial management will be a true asset to BTC Bank and our customers.
Jon enjoys doing anything outside including hunting and sports. Jon's wife, Lindsey, is a 5th grade counselor at Sedalia Middle School. The two are looking forward to getting involved in the Boonville community. Adding community minded people to the BTC Bank family is what makes our bank unique; it is great for BTC Bank and great for our community.