BTC Bank Debit Cards to Benefit Local Schools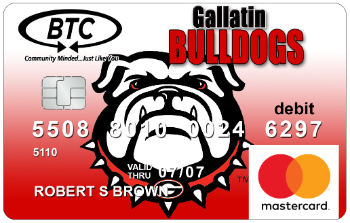 With school back in full swing, BTC Bank has been focusing on the installation of the School Mascot Debit Card Program, a new software that will allow for the instant creation and issue of local school pride debit cards that showcase team mascots and provide cash back to local schools.
To kick off the program, BTC Bank is offering Mascot Debit Cards to schools in which it currently has branches in their town. Customers can choose from debit card designs here.
The cards can be printed instantly, at any branch, at the time of request. Initially, when a BTC Bank customer orders their new mascot debit card, $10.00 will be deposited into an account that will then be donated annually to the corresponding school's booster club or similar association. As card awareness and placement grows, BTC Bank will donate a fixed amount per transaction to the specific school, providing funds for school activities and supplies. There is no additional cost to the card holder, and the initial card is free with any new or existing BTC Bank checking account.
"BTC Bank is excited to give back through the School Mascot Debit Card Program," BTC Bank President and CEO Doug Fish said. "It's our mission to offer quality service to the communities we serve, and this new program highlights the pride and passion we have for our area schools."
For more information on the School Mascot Debit Card Program, please contact BTC Bank at 1-877-BTC-BANK.