Zach Grossman Joins BTC Bank as Loan Officer in Carrollton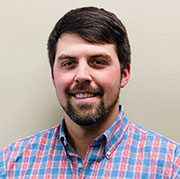 BTC Bank would like to welcome Zach Grossman, Loan Officer, to the BTC Family. Zach has joined the team at its Carrollton location.
As a lifelong resident of nearby Tina, and member of his family's multigenerational farming operation, Zach brings a lifetime of hands-on agriculture experience and a passion for small-community way of life.
Zach graduated from the University of Missouri with a BS in Agriculture Systems Management and Agriculture Economics, then returned to the area as a Livestock Specialist for MFA before deciding to put down roots in the banking industry with hopes to service his community with agriculture and commercial lending.
"With an extensive background in agriculture and significant ties to the area, we are fortunate to have Zach join our team," said Doug Fish, BTC Bank President and CEO. "He will be an excellent addition to the BTC Family, and a great asset for our community members and local farmers."
Zach is proud to know so many people in Carrollton and its surrounding areas, and welcomes community members to stop in for a visit.
"The atmosphere and morale within BTC Bank is what drew me in" says Zach. "I'm looking forward to being part of this team while servicing the people I know and care about at a workplace that feels the same way about our community as I do."
About BTC Bank
BTC Bank is a community bank founded in 1919 that's based in Bethany, Missouri, with additional branch locations in Gallatin, Albany, Pattonsburg, Chillicothe, Carrollton, Boonville, Beaman, Trenton, Maysville and Osborn, Missouri as well as Lamoni, Iowa. BTC Bank is agriculturally minded, service oriented and driven to strengthen the communities it serves. BTC safeguards the assets of its customers by creating a strong financial base through sound loans, investments and quality service.