Tonya Sloan Joins BTC Bank as Vice President and Loan Officer in Bethany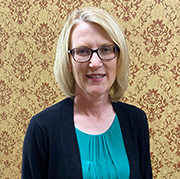 BTC Bank is pleased to announce the addition of Tonya Sloan, Vice President and Loan Officer, at its main location in Bethany. Tonya has now joined the Bethany team after working at the Osborn BTC location during the COVID-19 crisis.
Tonya, a former resident of Stet, MO, and graduate of Norborne High, has now been a member of the Cameron community for the last 34 years – 33 of those years spent working within the banking industry. She brings years of banking experience, diverse lending knowledge, and a personal tie to the agriculture industry with her to BTC Bank.
Tonya and her husband, Scott, own a diversified farm where they raise row crops as well as cattle and hogs. Their two sons, Cody and Troy, continue the tradition of agriculture within their family – Cody is the manager of a local COOP, while Troy runs the show pig operation on their farm. As a family, they raise show stock to sell to youth within 4-H and FFA to exhibit at livestock shows; they dedicate themselves to working closely with these kids and their families.
"With her long-standing history and knowledge of the banking and ag industries, Tonya makes an excellent addition to the BTC Bank team," said Doug Fish, BTC Bank President and CEO. "As we grow and develop as a community bank, she will be a great asset in developing relationships with our new and existing customers."
Tonya has a diverse lending portfolio, but will specialize as an Ag Lender with BTC.
 "I am excited about working for BTC Bank because of their reputation as a community bank, their enormous support of local communities, and especially their emphasis in Agriculture," says Tonya.