Steps to Start Building Your New Home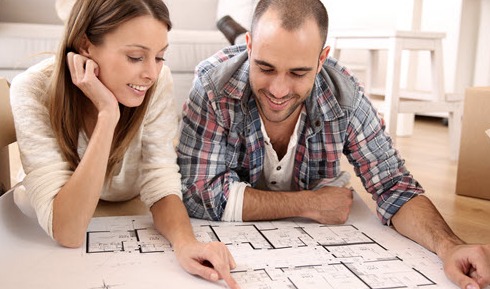 For many people, the dream of building their own home from scratch is a goal towards which they save and plan. If you dream of building a new home, don't let the enormity of the home building process overwhelm you. When the time comes to start financing your dream build, BTC Bank is here to help. Our expert home loan lenders in Missouri will walk you through every step of new construction financing. From start to finish, your community bank is here to help you along the way.
Steps to Building Your New Home
By taking your building plan one step at a time, you can methodically make your dream home a reality and avoid becoming overwhelmed by the process. There are 5 main steps to building your new home.
1.  Examine Your Financial Standing:
Interest rates and loan amounts are usually determined based on your credit. Check your current credit score to see if you are in good financial standing.


2.  Meet With a Mortgage Lender:
Talk to
a local lender
to calculate how much land and house you can afford. Get pre-approved for a building loan so you can start searching for your perfect lot and builder.



3.  Find the Right Lot:
Do you dream of a home situated on acres of pasture or do you simply want the house of your dreams in a new community? The lot you choose can affect the size and style of your new home.


4.  Design the Home:
T
here is an overwhelming number of decisions to be made when it comes to the design of your house.
How many stories will the home have?

How many bedrooms and bathrooms do you want?

What exterior living features (garages, porches, decks, a pool) do you desire?

What general exterior and interior style are you aiming for?

Do you want an open-concept floor plan or something more traditional?

Do you want to incorporate smart-home features?

Do you need to consider resale value, or do you plan to live in this house for many years?
5. Hire Professionals:
You will likely need more than one professional team to manage your build. Explore local professionals in the following fields to determine who you need to hire to help build your dream home.


Home Builder –

Interview licensed builders in your area and tour their recently completed homes. The right home builder will have excellent referrals and be extremely knowledgeable regarding budgeting for the build, zoning laws and permits, and community infrastructure availability such as water and sewer utilities.

Architect –

You may choose to hire an architect to design a one of a kind home for your family instead of choosing a pre-designed floor plan from a builder. An architect will discuss your family's needs and lifestyle to create the perfect home for your family to work and play.

Interior Designer –

The typical home buyer is often overwhelmed by the number of choices available for interior finishes. Hiring an interior decorator will allow you to focus on a few, hand-picked finishes based on the desires you have communicated to a decorating professional.

Other Professionals –

Throughout the building process you will need to enlist the help of other professional teams. You'll need to survey and clear your land before building. A structural engineer and inspector will come in handy when designing your home. And at the end of your build, plumbers, electricians, and landscapers will help finish the job. 

Costs of Building a New Home
Depending on the location, size, and design of your dream home, the cost to build can vary greatly. Working with a trusted builder can help ensure that your plan matches your budget. Here is a general breakdown of the average range of building costs.
Land: You'll have to purchase a piece of solid ground on which to place your new home. Size and location of the land will determine the asking price in your area. In general, this purchase usually ranges from $3,000 to $150,000.
Preparing the Site: Most land has to be cleared and graded before it's ready for a home. This typically costs $1,500 to $5,000. If you need a well and septic tank installed, add another $4,500 to $22,000. Even hooking up to existing city utility systems can add thousands of dollars to this budget line.
Choosing a Floor Plan: Purchasing a pre-existing floor plan from an architect or builder may only cost you around $1,700. If you want something more unique, plan to spend $5,000 to $8,000 on a personalized blueprint from an architect.
Laying the Foundation: The bottom level of your home could be a concrete slab, crawl space, or full basement. Concrete slabs are the least expensive and average around $5,000. Other types of foundations can cost around $25,000, and a finished basement could add $100,000 to your project.
Framing the Walls: The next step after your foundation is laid involves framing out your home. This will involve the construction team following your blueprint in order to lay out the walls, ceilings, and floor boards that will enclose and divide up your house. A single-story framing budget is between $20,000 and $50,000.
Finishing the Exterior: Covering up the wooden framework of your home involves the cost of windows, doors, siding, and roofing. Typically $40,000 to $60,000 will complete this step of the building process.
Major System Installations: This is when your electricians and plumbers step in to get your house ready for habitation. Your heating and air conditioning systems, water heater, electricity, and plumbing comes to roughly $30,000 - $75,000.
Interior Design Finishes: Often a budget buster for homebuilders, interior finishes can quickly add up to a lot of money. Cabinetry, flooring, countertops, and appliances vary greatly in price. Choose a budget and stick to it, interior finishes usually cost between $50,000 and $175,000.
Landscaping: You'll know move-in day is fast approaching when the landscapers arrive. Don't forget to budget $5,000 to $20,000 for a driveway, grass and landscaping, and backyard deck.

Cost to Build a Home in Missouri
The best way to calculate your building cost is to determine the average square foot price in your area. Your local builders will have a keen sense of the going rate and also account for any unique features you hope to add to your build. According to Missouri builder Brett Godfrey, new custom homes in Missouri start around $130 per square foot and quickly reach $200 per square foot or more. At $130 per square foot, a 2,000 square foot home will cost approximately $260,000 to build. Multiple level homes, modern building designs, and custom finishes can increase this cost.
Advantages of Building a New Home
If you're thinking that building a custom home sounds like a lot of work, you're not wrong. For many families in Iowa and Missouri, the benefits of a new home outweigh the time and money it takes to build a house. The rewards of building a home include:
Your Dream Home:

Buying a house is likely the largest purchase you'll ever make. Instead of settling for an existing home that doesn't fit your family's needs and dreams, design a home that is perfect for you and your family.

Save Money on Repairs:

While building a home might cost you more money upfront, everything is new. This means that your roof, HVAC system, and appliances are under warranties for years to come. You won't have any unexpected costs from maintaining an older home.

Energy-Efficient Savings:

New homes are built with energy-saving insulation and windows, so you won't be leaking your A/C and heating out into nature. You'll save money each summer and winter. Your new appliances are built to use less electricity than older models, so you'll also save money each month on electricity costs.

Smart Home Technologies:

It's much easier to incorporate modern, smart technologies into a new home build that it is to rewire an existing home. Smart technologies can also help control your energy usage by turning off lights and allowing you to adjust your thermostat from your phone.


Financing Options for Building Your Home
Paying for new home construction is different than taking out a conventional mortgage on an existing home. Luckily, the mortgage lenders at BTC are experienced at helping members of our community build their dream homes from scratch. Some mortgage options that can help you finance your new home include:
Construction Loans –

Also known as home building loans, construction loans cover the cost of building materials and professionals. Once the house is fully constructed, the loan is exchanged for a traditional mortgage of your choosing.

Home Improvement Loans

– Sometimes you can transform an existing home into your dream home with a few renovations. Home improvement loans are made for this purpose and help turn a house into your perfect home.

Home Equity Loans –

If you owe less on your mortgage than your home is currently worth, you have "home equity". A home equity loan can tap into the current value of your home and provide money to make renovations and updates.

---
Finance Your New Home and Home Improvement Projects with BTC!
At BTC Bank, we get as excited about new homes as you do. Our knowledgeable mortgage team loves helping our community build new homes and transform existing homes. The first step towards your dream home is establishing funding. When it comes to mortgage lenders, we have local expertise, competitive rates, and the flexibility of a community bank. We especially understand the needs of home buyers in the many rural areas we serve. Take a step towards your dream today by contacting us online or toll-free at 1-877-BTC-BANK. You can also visit one of our 22 Missouri locations (Bethany, Gallatin, Albany, Pattonsburg, Chillicothe, Carrollton, Boonville, Beaman, Trenton, Maysville, Osborn, and Buffalo) or our Lamoni, IA branch.