Seth Cline joins BTC Bank as Loan Officer in Buffalo, Missouri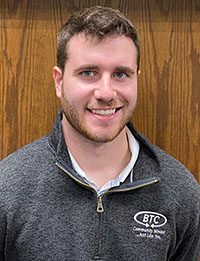 BTC Bank is proud to announce the addition of Seth Cline as Loan Officer at its new Buffalo, Missouri branch location, with plans to open in early January at 1505 South Ash Street.
"We are very pleased to have Seth join our banking family," said Doug Fish, President and CEO of BTC Bank. "He will certainly help strengthen our bank's ability to provide local lending solutions to businesses and individuals in the Buffalo market area."
Seth is from Albany, Missouri and recently moved to the Buffalo area. He received his Bachelor's Degree in Business Administration from Westminster College in Fulton, Missouri.
 "BTC Bank attracted me with its community-minded bank atmosphere." said Seth. "It is a great community bank that gives the personalized service that so many big banks lack in today's society. I'm excited to meet the people of Buffalo and make a positive impact in the community."
Seth joins BTC Bank Market President, Jim Krueger, Customer Service Representative, Mindy Morris, and Loan Processor, Julie Condren, as the four work to establish the bank's 13th branch location. The bank has replaced the former Shop-N-Swap building on Ash Street with a temporary modular structure and plans to build a more permanent brick and mortar building in the future. The temporary building is a full-service bank including a night-drop box and drive-thru.
---
About BTC Bank
BTC Bank is a community bank founded in 1919 that's based in Bethany, Missouri, with additional branch locations in Gallatin, Albany, Pattonsburg, Chillicothe, Carrollton, Boonville, Beaman, Trenton, Maysville, Osborn, and Buffalo Missouri and Lamoni, Iowa. BTC Bank is agriculturally minded, service oriented and driven to strengthen the communities it serves. BTC safeguards the assets of its customers by creating a strong financial base through sound loans, investments and quality service.
###