Missouri Bankers Association Honors BTC Bank for 100 Years of Service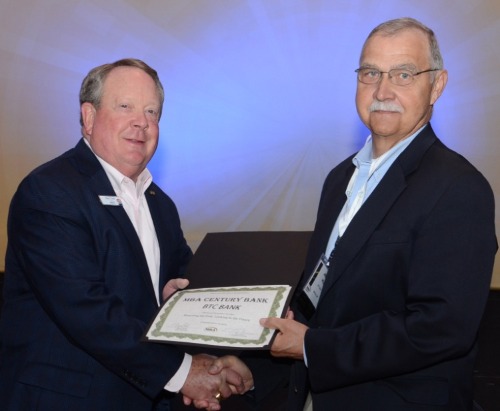 JEFFERSON CITY, Mo. — BTC Bank in Bethany was honored as a MBA Century Bank by the Missouri Bankers Association on Thursday, June 13, during MBA's 129th Annual Convention at the Hilton Branson Convention Center.
Chartered in 1919, BTC Bank began its operations Sept. 19, 1919. It is among more than 150 Missouri banks that have reached or surpassed the 100 year milestone.
"BTC Bank has been serving the citizens of the state for decades and to be recognized as an MBA Century Bank is just one indication of how vital its work is to the development and growth of our communities," said Max Cook, MBA president and CEO.
BTC Bank, formerly known as Bethany Trust Company until 1999, is a community bank that's based in Bethany, Missouri, with additional branch locations in Gallatin, Albany, Pattonsburg, Chillicothe, Carrollton, Boonville, Beaman, Trenton, Maysville and Osborn, Missouri and Lamoni, Iowa. BTC Bank's staff of four employees in 1935 has grown to 117 in 2019. Opening assets in 1919 of $100,000 have amassed to over $500 million today.
"The consistent support of the citizens and customers of these great communities, both then and now, has been the cornerstone of BTC Bank's success," said BTC Bank President and CEO, Doug Fish. "Looking forward, we will continue to be an agricultural bank driven by the desire to serve and be part of successful thriving communities, while committing to our mission, vision and core values as we have for the past 100 years."
BTC Bank is a member of MBA. Founded in 1891, the Missouri Bankers Association is a statewide trade and professional organization in Jefferson City that represents the interests of more than 250 banks and savings and loans in Missouri. MBA serves as the principal advocate for the Missouri banking community and provides educational opportunities, products and services that assist bankers with enhancing their banking operations. For more information, visit mobankers.com.