Laura Kimble joins BTC Bank as Vice President in Trenton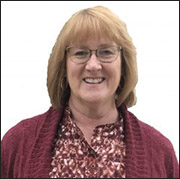 BTC Bank is proud to announce the addition of Laura Kimble as Vice President, Loan Officer at its new Trenton branch location, which will open at the beginning of November on 1000 Oklahoma Avenue.
With over 35 years of banking experience, Laura brings extensive lending knowledge to BTC Bank through leadership positions held with a number of community banks in Trenton.
"As we continue to grow our presence in Trenton, we look to talented individuals like Laura, whose regional expertise and leadership skills will help to sustain and grow relationships with new and existing customers," said Doug Fish, President and CEO of BTC Bank. "Laura's years of experience and success in consumer, commercial and residential real estate lending and her varied skill set make her a valuable asset to our BTC team."
Laura is a former Trenton resident and graduate of Trenton High School. She continued her education at North Central Missouri College and Missouri Lending School to provide her customers with the best possible lending services. Laura and her husband, Kurt, reside in Bethany and have four grown children and four grandchildren. Most of Laura's family is in the Trenton area and she's excited to be working back in the community.
"It's a privilege to have the opportunity to work for a premier, community-focused bank that goes above and beyond for its customers," said Laura. "I'm looking forward to helping BTC Bank expand their services and support into my hometown, and it's a bonus that I'll be working back in Trenton to be able to reconnect with old customers and friends."
Laura joins former Trenton resident and BTC Bank Market President, Tom Witten, as the two work to establish the banks 10th branch location. The bank has replaced the former KFC/Taco Bell building with a temporary modular structure while building its new permanent bank on the former Witten property. The temporary modular building is a full-service bank including an ATM, night-drop box and drive-thru.
About BTC Bank
BTC Bank is a community bank founded in 1919 that's based in Bethany, Missouri, with additional branch locations in Gallatin, Albany, Pattonsburg, Chillicothe, Carrollton, Boonville, Beaman, and Trenton, Missouri as well as Lamoni, Iowa. BTC Bank is agriculturally minded, service oriented and driven to strengthen the communities it serves. BTC safeguards the assets of its customers by creating a strong financial base through sound loans, investments and quality service. Member FDIC