Johnathan L. Meyer Joins BTC Bank as Trust Officer and General Counsel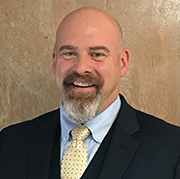 BTC Bank is pleased to announce the addition of Johnathan L. Meyer as a Trust Officer and General Counsel for all BTC Bank locations. Johnathan will be responsible for developing and cultivating new and existing relationships in trust accounts and estate planning strategies for individual and institutional accounts.
Johnathan has over 21 years of trust creation and administration experience and joins the bank with an extensive background in estate planning, business organization, taxation and corporate transactions.   
"I'm pleased to welcome someone with Johnathan's experience to our team," says BTC Bank President and CEO, Doug Fish. "His previous work in both private practice and corporate law makes him a skillful expert when it comes to estate planning and trust administration. I expect his leadership to have a meaningful impact on BTC Bank's continued success."
Johnathan is a graduate of South Harrison High School and attended Northwest Missouri State University where he graduated magna cum laude with a Bachelor of Science Degree in Accounting. He attended Law School at the University of Missouri at Kansas City - School of Law where he obtained a Juris Doctor in Law and a Masters of Law (L.L.M.) in Taxation.
Johnathan currently serves as Harrison County Prosecuting Attorney and plans to finish out his term. He will continue to work with current clients from his private practice, Meyer Law & Mediation, and promises a smooth transition for all previous clients.
"I'm honored to begin the next chapter of my legal career with BTC Bank," says Johnathan. "This bank is a leader in the industry with a well-developed plan for future growth, and I'm thrilled to be a part of that success. I'm able to start this position while still serving in county office and assisting current clients. No one will be left behind and I'm grateful to BTC Bank for giving me this opportunity." 
Johnathan is married to wife, Erin, and they have three children, Sebastian, Jocelyn and Tynan. The family currently shares their time in Bethany and Gladstone, Missouri.


About BTC Bank
BTC Bank is a community bank founded in 1919 that's based in Bethany, Missouri, with additional branch locations in Gallatin, Albany, Pattonsburg, Chillicothe, Carrollton, Boonville, Beaman, Trenton, Maysville and Osborn, Missouri and Lamoni, Iowa. BTC Bank is agriculturally minded, service oriented and driven to strengthen the communities it serves. BTC safeguards the assets of its customers by creating a strong financial base through sound loans, investments and quality service.