BTC Bank Welcomes Susan Lenz as Boonville Branch Coordinator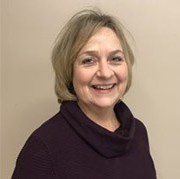 BTC Bank would like to welcome Susan Lenz, Branch Coordinator, to the BTC Family. Susan joined the Boonville team at their current location in October and will move to their new location upon completion. With groundwork started, plans for the new permanent location on Rankin Mill Lane and Highway B are in full swing.
Susan came to the Boonville community when she was just 10 years old. A graduate from Boonville High School and University of Missouri – Columbia, she grew up and raised her own family in the Boonville area.
Susan has 14 years of experience at various financial institutions in Boonville, and brings knowledge in all aspects of banking to BTC Bank.
"Susan is bringing a lot of skill and enthusiasm to this role and we are excited to see how her knowledge of financial principles and leadership will help our bank succeed," said Vice President and Branch Manager, Eric Funk. "She is an excellent addition to the BTC Bank team as we continue to grow and develop relationships with new and existing customers."
In this new position, Susan is responsible for branch oversight, including daily operations, staff, sales and financial performance. In her spare time, Susan enjoys gardening, traveling, reading and interior design.
"BTC Bank is really passionate about supporting my hometown community and I'm so excited to be a part of that," says Susan. "I'm looking forward to seeing new and existing customers and helping them fulfill their specific financial needs."
BTC Bank is hopeful that the new branch building in Boonville will be completed by late spring or early summer next year.
About BTC Bank
BTC Bank is a community bank founded in 1919 that's based in Bethany, Missouri, with additional branch locations in Gallatin, Albany, Pattonsburg, Chillicothe, Carrollton, Boonville, Beaman, Trenton, Maysville and Osborn, Missouri as well as Lamoni, Iowa. BTC Bank is agriculturally minded, service oriented and driven to strengthen the communities it serves. BTC safeguards the assets of its customers by creating a strong financial base through sound loans, investments and quality service. Learn more at www.btcbank.bank.