BTC Bank Financial Scholars Program
April is National Financial Literacy Month! At BTC Bank, we are committed to equipping students with the knowledge they need to build financial capability. Our free digital financial education program is available to schools in our footprint, and during the month of April, parents and students can access these resources at home! Visit EverFi to learn more.
---
At BTC Bank, we believe in educating young people to take control of their financial future. To support this important endeavor, we partner with EverFi to bring the BTC Bank Financial Scholars Program to schools throughout the area. This program provides an interactive, web-based financial management course to students at no cost to the school.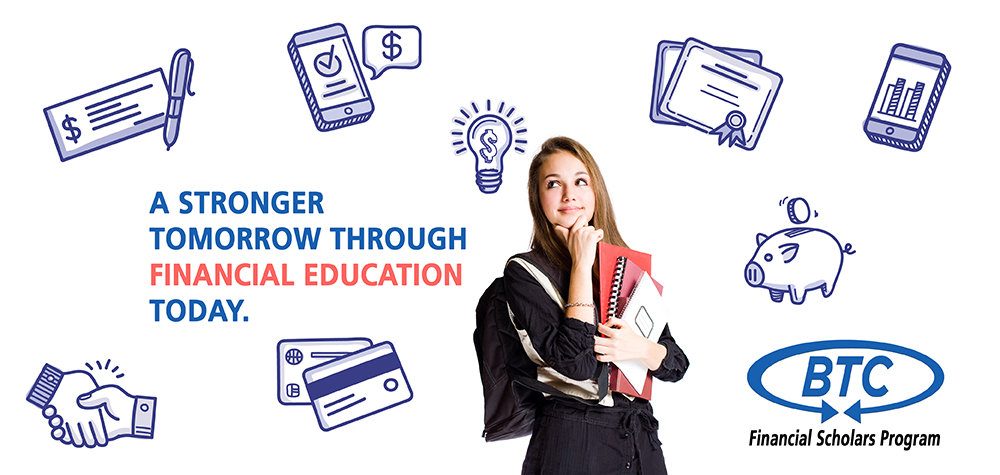 According to EverFi survey data, 87% of parents talk to their kids about money but only 43% of parents describe themselves as well prepared to teach their kids about money, and many do not discuss more complex concepts like credit, financing higher education, or building wealth.
BTC Bank supports students with critical financial knowledge and skills by providing financial literacy education in our local community classrooms. EverFi's web-based course uses videos, animations, 3-D gaming, and avatars to bring financial concepts to life for today's digital generation. Course curriculum aligns with both state and national financial literacy standards
Currently, the BTC Bank Financial Scholars Program has reached over 2,500 students in 19 schools. The program covers key financial topics such as credit scores, insurance, credit cards, student loans, mortgages, taxes, stocks, savings, 401(k)s, and other critical concepts that map to national financial literacy standards.
The platform uniquely tracks the progress and performance of every student and provides students who successfully complete the course with certification in financial literacy, a valuable mark of distinction on college applications and resumes, and the opportunity to apply for the BTC Area Youth Benefit Corp. Scholarship Program totaling $5,000.00. Each year, three selected senior applicants are awarded $2,500.00 $1,500.00 and $1,000.00 to be used towards furthering their education.
BTC Bank employees also volunteer in the classroom throughout the school year to reinforce the importance of these financial tools and to help students understand the impact that money and finances can have on their future.
In addition to supporting financial literacy education in schools, BTC Bank has launched a special savings account to help children practice smart money habits. Contact us about our free, interest bearing account that encourages kids to stop in the bank and earn cash rewards for report card grades.
If you're interested in learning more about the BTC Bank Financial Scholars Program, contact Jeff Donovan, BTC Bank Financial Manager, at 660-425-7285 or jeff.donovan@btcbank.bank.