Jim Krueger to Lead BTC Bank in Buffalo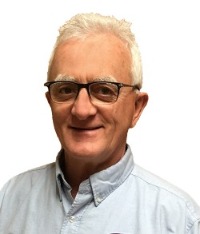 BTC Bank is proud to announce the appointment of Jim Krueger, Vice President at BTC Bank, as the Market President over its new full-service bank in Buffalo, Missouri. Jim recently moved to Buffalo and has begun to establish the banks 13th branch location, with plans to open in late December at 1505 South Ash Street.
Jim has over 23 years of experience in the banking industry. He has been a part of the BTC Bank family for almost 15 years as Vice President and Loan Officer at the bank's main location in Bethany, Missouri. Jim will be a significant asset for BTC Bank to hit the ground running in Buffalo as a new community bank.
"Jim has done an excellent job at BTC Bank and has helped the bank grow exponentially over the years," said Doug Fish, BTC Bank President and CEO. "He is a strong leader with a passion for our communities and meeting the needs of all our bank customers. I have no doubt he'll be the asset we need to lead and grow our new location in Buffalo."
As the new Market President, Jim's ready to serve the area by assisting agricultural producers, local businesses and community members with their banking and lending needs.
"I am very excited to get to know the people of these communities personally and help them thrive," says Jim. "It will be great to provide new products and services to the area – and to really be invested in the people, events and agricultural needs that matter to these communities."
Jim and his wife Rita attend the Calvary Baptist church in Buffalo. They have five grown children, nine grandchildren and one great-granddaughter. Jim enjoys spending time with his wife gardening and making updates to their new property in Buffalo.
Jim shares that his focus is to provide the Buffalo area with the Community Minded philosophy that BTC Bank has held for the past 101 years, while offering the same products and services as larger banks. "Offering the customers a mobile banking app, instant-issue and mascot debit cards, new Kasasa Free Checking and Cash Back accounts and directly supporting the communities and schools are all exciting new things BTC Bank will bring to the area."
About BTC Bank
BTC Bank is a community bank founded in 1919 that's based in Bethany, Missouri, with additional branch locations in Gallatin, Albany, Pattonsburg, Chillicothe, Carrollton, Boonville, Beaman, Trenton, Maysville, Osborn, and Buffalo Missouri and Lamoni, Iowa. BTC Bank is agriculturally minded, service oriented and driven to strengthen the communities it serves. BTC safeguards the assets of its customers by creating a strong financial base through sound loans, investments and quality service. Member FDIC