BTC Bank Welcomes Jennie Brown as Loan Officer in Bethany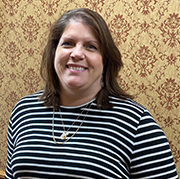 BTC Bank would like to welcome Jennie Brown, Loan Officer, to the BTC Family. Jennie has joined the team at its main location in Bethany.
After living in various states and cities throughout her childhood, Jennie and her family landed in Albany, MO, where she has now resided for 37 years; 36 of those years spent within the banking industry.
Jennie brings vast experience from various roles within community banks in our area, and will now be assisting customers with their consumer and residential lending needs at BTC Bank.
"Jennie has been loyal to the community banking world for a very long time. She has the experience, knowledge and dedication to be a great lender and we're fortunate to have her on our team," said Doug Fish, BTC Bank President and CEO. "She is an excellent addition to the BTC Family, and will be a great asset for our community members."
Jennie and her husband, David (3rd generation plumber of Brown Plumbing and Backhoe in Albany), have one son, Chance, and a six-month-old black lab, Andy. In her free time she enjoys cleaning, reading, cooking and spending time with friends and family. As a member of a Hot Sand Bugs Shrine unit, Jennie and her husband spend time riding in their converted Volkswagen "Bug" with other members of the group, when the weather allows.
Although her employment at BTC Bank began just before closing lobbies and changing various banking protocol due to COVID-19, Jennie says within such a short time and through this unique experience that she is impressed by the degree of care for customers, and looks forward to the opportunities to give back to our communities at BTC Bank.
"I know that I shocked several by making this change to BTC Bank, but I am so glad that I have. The leadership and employees are very professional and have set the bar high," says Jennie. "I hope that I can enhance the customers' experience when they walk into our doors, too."