BTC Bank 100th Year Summer Scavenger Hunt
---
Didn't you hear??
We're celebrating BTC Bank's 100th Year!
We could never put into words our sincere appreciation,
for our amazing customers' true dedication.
BTC wouldn't be here without you,
so we have planned a fun activity for you to do!
There will be clues and prizes along the way,
but we do feel inclined to say...
If you make it to the very end, 
one hundred dollars you just might win!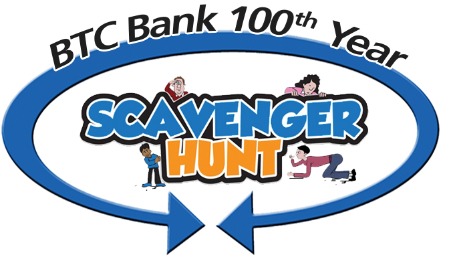 Looking for a fun summer-time activity?
BTC Bank welcomes friends, families and people of all ages to participate in our 100th Year Summer Scavenger Hunt! Follow riddles and clues to learn more about BTC Bank while trekking around the City of Bethany. The first 100 participants will receive small prizes at each location, and will be entered into a $100 cash drawing at the completion of the hunt.
(For an extra entry into the drawing, post a photo to social media with the BTC piggy bank you will receive at the end of the hunt! When you turn in your original entry, you must show proof of the post to a BTC employee to receive the additional entry.)
When: July - August 2019
You may complete the hunt at your leisure, any day or time throughout these two months. Winner of the $100 Cash Drawing will be announced and contacted on September 3, 2019. 
Where: City of Bethany, MO
Four hidden (outdoor) locations throughout Bethany will be revealed through riddles provided at the previous stop. 
Who: Anyone!
Small groups, families, babysitters looking to entertain some kiddos....all welcome!
Age 12+ unless accompanied by an adult. (You may wish to have someone of legal driving age as a participant, as locations are considerable distances apart.)
Ready?? Please read our Official Rules first here.
When you have read through our Official Rules, you can find your first riddle and a printable instruction sheet here.
---