100 Year Anniversary

WE'RE CELEBRATING 100 YEARS OF COMMUNITY BANKING
While Thursday, September 19 marks the date on which we first opened our doors back in 1919, we know one day isn't enough - so we are celebrating all year long! We've held our founding principles true to this day - community minded, service oriented and agriculture based. Our success depends on the success of the communities where we live, work and play.
Help us celebrate by participating in our celebration activities and events below!
---


Quarterly Kids Coloring Contest

(Click picture below for more details)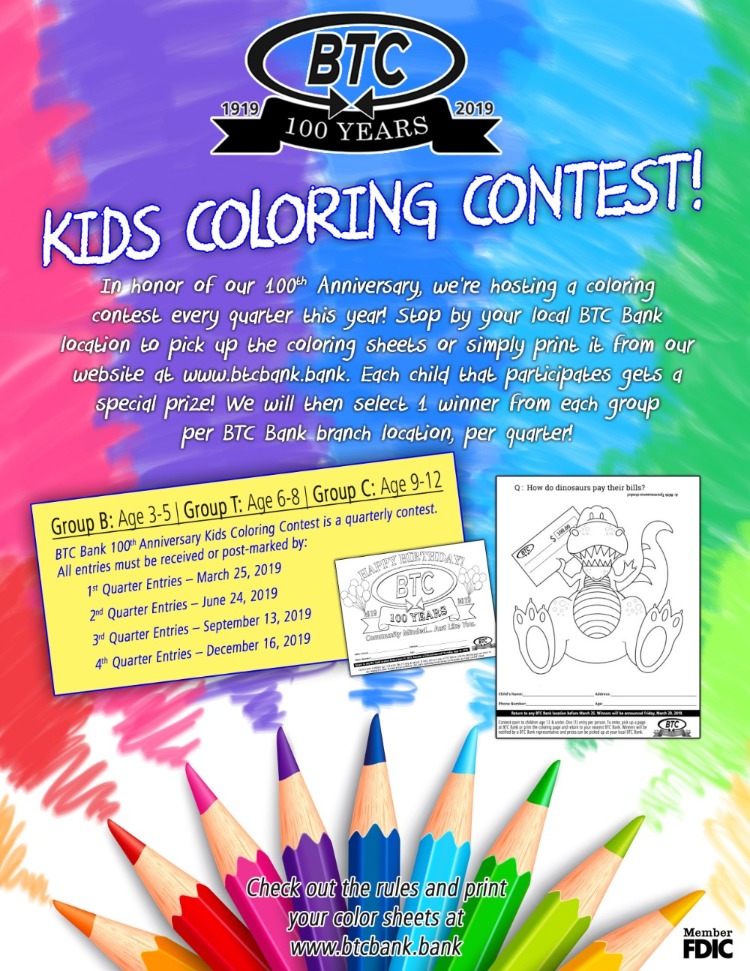 ---
Customer Appreciation Lunches
Serving pulled pork and all the fixins!
Special 100th year giveaways
11am - 1pm
May 17 - Gallatin Branch
May 31 - Chillicothe Branch
June 14 - Beaman Branch
June 28 - Lamoni Branch

Sept 11 - Albany Branch
Sept 19 - It's our BIRTHDAY! See special Birthday Party info for Bethany below!
September 20 - Maysville and Osborn Branches
Sept 27 - Carrollton Branch
October 4 - Pattonsburg Branch
October 9 - Boonville Branch
October 18 - Trenton Branch

---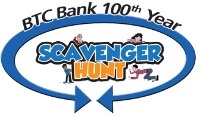 Looking for a fun summer-time activity? BTC Bank welcomes friends, families and people of all ages to participate in our 100th Year Summer Scavenger Hunt! Follow riddles and clues to learn more about BTC Bank while trekking around the City of Bethany. The first 100 participants will receive small prizes at each location, and will be entered into a $100 cash drawing at the completion of the hunt. 
---
FREE BTC Bank Community Block Birthday Party!
Thursday, September 19, 2019
5:00 - 9:00 p.m.
Bethany Square
We're having a block party where it all began for BTC Bank back in 1919... on the Bethany Square!
A little bit of fun for all ages!
Food - brisket, pulled pork, pork Loin, hotdogs and hamburgers - with all the fixins!
Live Band & Dancing
Kids Activities
Inflatables 
---
September Celebration Activities:


Month of September -
Youth Deposit Special - Anyone age 18 or younger who makes a $50+ deposit in the month of September will receive a special prize! (limit one per person)
100th Year Commemorative Book Reveal - Showcasing BTC Bank's history, people and community impact.
Week of our Birthday, September 16-20 - 
Celebrate at all of our locations! Stop in to enjoy some refreshments and giveaways each day of the week while enjoying some historical memorabilia we have on display.
September 17 - BTC Bank History Chat in Bethany - Join us for a light lunch, tour of our Bethany bank location and conference center while listening to special guests chat about the history of BTC Bank. Please RSVP at 660-425-7285 by Friday, September 13.
September 19 - BTC Bank Community Block Birthday Party

---
Our Employees are Celebrating, Too!
Community Service Initiative - We're encouraging each of our 100+ employees to give a minimum of one hour of service back to the communities that helped build BTC Bank through the years. Since most of our employees already fit into this category - we'll be planning special group volunteer activities in the communities we serve. More information coming soon!
Pay it Forward Program - We're encouraging our BTC Bank employees to give back to those in need. Each employee will be provided with funds throughout the year to fulfill random acts of kindness in their local areas!
---


Check back throughout the year to learn how we're celebrating our
milestone anniversary in your community!